California
From time to time, we may decide a dog really should be held back for possible breeding purposes. However, being that we are a small breeder, and believe dogs need to get as much human interaction as possible .
This is when we would be open to accepting applications for a loving guardian home  for a beautiful family friend. If you are interested in getting one of our beautiful new puppies, please email us at. info@countryclublabradoodles.com.
If you are interested in being a guardian home please call Shelly for more information at 661-345-4436. Preview of the Past pup's below:
NEW PUPPIES ARE HERE! WE HAVE CREAM AND CHOCOLATE AND ONE BOY WHITE WITH CARAMEL ON HIM!!!! WE HAVE 4 GIRLS AND 2 BOYS THAT CAN GO TO NEW HOME AUGUST 9TH.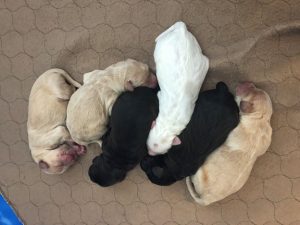 | | |
| --- | --- |
| Mom | Dad |
California
Watch your pup on live video on your smart phone! Download the App below!
WE WILL HAVE  1 OPENING  FOR GUARDIAN HOMES.
NEW Puppies from Scooter and Rasta Jewels!
---
The New Puppies! Coming in June 2018 Will be 35 lb full grown .
THESE ARE OUR PAST PUP'S  .